Urban Social Issues Survey (Lethbridge)
The purpose of this project is to explore the observations and experiences of business owners/supervisors/managers whose businesses are in the downtown area, over a period of two years.
Specific concerns often voiced by those who work in downtown areas include:
Illicit drug trade activity in the area
Localization of drug activity to the area
Public disorder
Discarded drug paraphernalia
Criminal activity
People who work (or live) in the downtown area have concerns for the safety, orderliness and livability of the area.
Neighbourhood effects are those impacts, due to a community element, on those who live, work, or conduct business or social activities in the area under study. Neighbourhood effects are felt in the economic position, utility, enjoyment, sense of security, and social interactions experienced by those who live, work or otherwise engage in the area.
In this study neighbourhood effects on the business community will be measured in two ways: Through surveys of people who work in the affected neighbourhoods, and through objective measurements from police, ambulance/fire, ARCHES (needle pickup), and the Diversion Outreach Team (DOT).
In January 2018, a team of research assistants will be going door to door to businesses in the study area outlined in black (below). If you run a business in the study area, you will be invited to participate in a brief (<15 minutes), anonymous survey. This is a research study about your experiences as a business owner or manager whose businesses are in the downtown area and whose businesses may be impacted by issues such as loitering, drug use, litter, and other social problems in the area around your business. Through your participation, the study team hopes to better understand the amount of crime, drug debris and litter, open drug use, and threats to safety you or your customers/clients experience while at your place of business. This invitation to participate is being extended to all businesses in this area: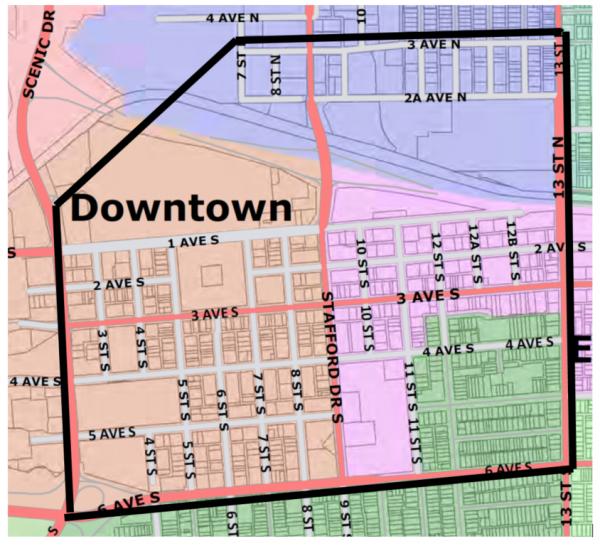 The first survey will be delivered to your place of business. You can then opt in to participate in an identical online survey every 3 months for 1 year or for 2 years (your choice) so that you can tell us how the different seasons/times of year, or how social developments in your area during the year, change what happens around your business.
Please contact Dr. Pijl for more information (em.pijl@uleth.ca).

My current research projects utilize quantitative and mixed methods and are focused on:
Health services for marginalized patient populations
Homeless, substance-using, and at-risk populations
Moral distress in clinical practice

Previous work on new graduate nurse competence:
Achievement of Community Health Nursing Competencies through Undergraduate Clinical Experiences: A Gap Analysis - INFOGRAPHIC OF FINDINGS ch_study_pijlzieber_2015.pdf