Urban Social Issues Survey (USIS)

The purpose of this project is to explore the observations and experiences of business owners/supervisors/managers whose businesses are in the downtown area, over a period of two years. There is also a residential survey available.
Specific concerns often voiced by those who work or live in downtown and other central areas include:
Illicit drug trade activity in the area
Localization of drug activity to the area
Public disorder
Discarded drug paraphernalia
Criminal activity
People who work or live in the downtown area have concerns for the safety, orderliness and livability of the area.
In the Urban Social Issues Survey study, neighbourhood effects will be measured in two ways: Through surveys of people who work or live in the affected neighbourhoods, and through objective measurements from police, ambulance/fire, needle pickup teams, homeless outreach teams, and sentinel sites.
In January 2018, a team of research assistants went door to door to Lethbridge businesses in the study area outlined in black (below):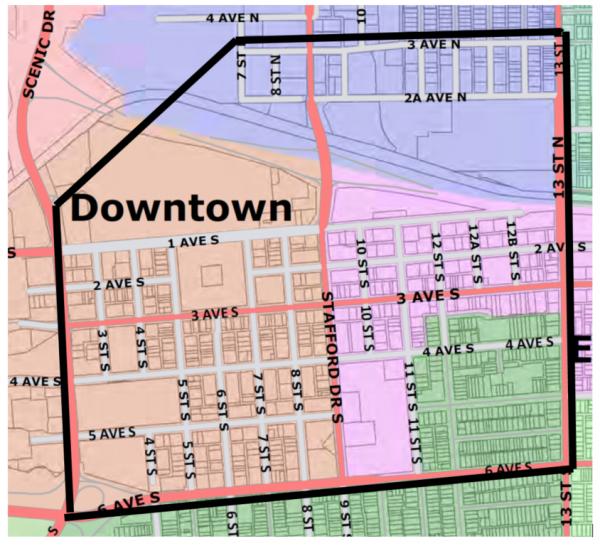 The first survey was delivered to businesses and completed in paper format. Subsequent quarterly surveys will be administered every 3 months, for a period of 1 or 2 years, for those participants who opted in during the baseline data collection.
The purpose of ongoing data collection is to enable those who work downtown to tell us how the different seasons/times of year, or how social developments in your area during the year, change what happens around your business. For more information on the ongoing study in Lethbridge, please click here (PDF).
Please contact Dr. Pijl for more information (em.pijl@uleth.ca).

My current research projects utilize quantitative and mixed methods and are focused on:
Homeless, substance-using, and at-risk populations
Health services for marginalized patient populations
Moral distress in clinical practice

Previous work on new graduate nurse competence:
Achievement of Community Health Nursing Competencies through Undergraduate Clinical Experiences: A Gap Analysis - Infographic of study findings: ch_study_pijlzieber_2015.pdf